When users are exporting and importing data to the Site they are moving data between cloud storage where they can view the content online and a file to access data on their machine.
Therefore it is often good practice to inform the User of the this implication and ensure they they take caution when performing an export or upload. When using one of these features, the User will need to take an extra step to confirm that they have understood the policy before the action will begin.
Accessing the Export and Upload Policy
To view the Export and Upload policy for a site, first select Settings from the COGS Menu and then select the Site Settings folder in the left pane menu.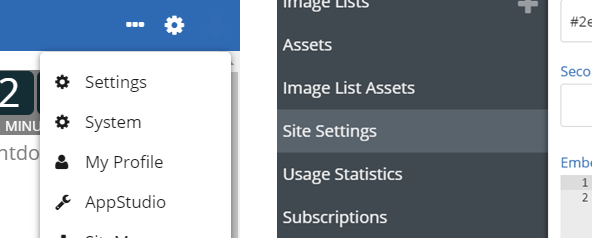 In Site Settings click on the 'Export & Upload Policy' to display the policy for handling data and also whether it has been enabled.
Export Policy
To set the Export policy, enter the text content into the Export Message and then click on the 'Show Export Message' property above it. This will then appear wherever the User is downloading information from the Platform. This could be exporting Records from a List Report to .csv, performing a Templated Word export, downloading an attachment from a Record or downloading a stored Import from the Import Summaries.
Import Policy
Similarly, to set the Import Policy, enter the text into the Upload message and click on 'Show Upload Message'. This will then appear to the User each time they look to upload data into the platform. These scenarios include uploading a new Asset, adding an attachment to a Record and importing data to an App via Import of a .csv file.