Publishing an App will mean that you are ready for the App to be visible and used by users. The final step before you make this happen means that you need to ensure that the following configuration options are in place:
App Visibility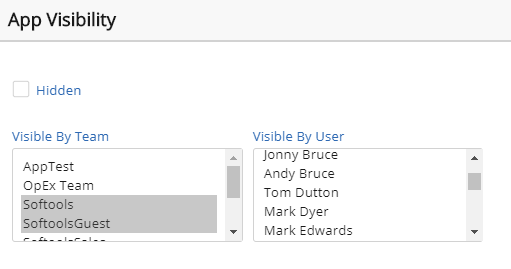 New Apps will be Hidden on creation. This property will override any App Visibility set and hide the App from all users. This needs to be unchecked in order to publish the App to the Workspace.
If an Application is not hidden and no teams or users have been selected for App Visibility then the Application will be visible to all users.
App Visibility can be restricted to specific teams and or users. It gives users visibility of the App in the Launchpad. To select multiple teams and users hold down Ctrl while selecting the teams and users.
Default Records Access Rights
By default, when a new record is created in an App it will only be visible to the user that created it via an Owner access right. In this section you can add teams that will also have access to newly created records.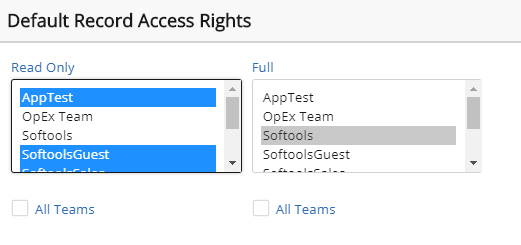 Read-Only and Full Access can be set for teams in the relevant list. To select multiple Teams hold down Ctrl while making your selection.
All Teams will set an access right that allows all user to have a Read-Only or Full Access to records.
Note: If All Teams is selected and a Team also has been selected then the Team level access will take priority over the All Users Access. The access priority is then Team Full, Team Read-Only, All Full then All Read-Only.
App Edit Access Rights
This selection is part of the overall App Governance process in the business. It is important that whenever changes are made to any application that the App Executive sponsor or 'owner' and core users are informed.

Initially App Edit Access Rights will be set to the User that created the Application. Only that user will have visibility of the App in the App Studio Launch Pad.
Additional Users and Teams can be given Access to Edit the App. To select multiple teams and users hold down Ctrl while selecting the teams and users.
If no users or teams are selected then the App will be open and any user with App Studio Access will have access to edit the App.
Tips
Once you have set preferred App Visibility you will need to remove the tick from the Hidden field at the top of the form. Get into the habit of keeping Apps hidden until they are ready to be used
Changing App security will allow you to publish your Apps within the Softools platform. As public App Stores such as Microsoft 365 App Store or Azure Market Place become more popular you will be able to publish your App to such public stores. For more information please email: support@softools.net