Bar Chart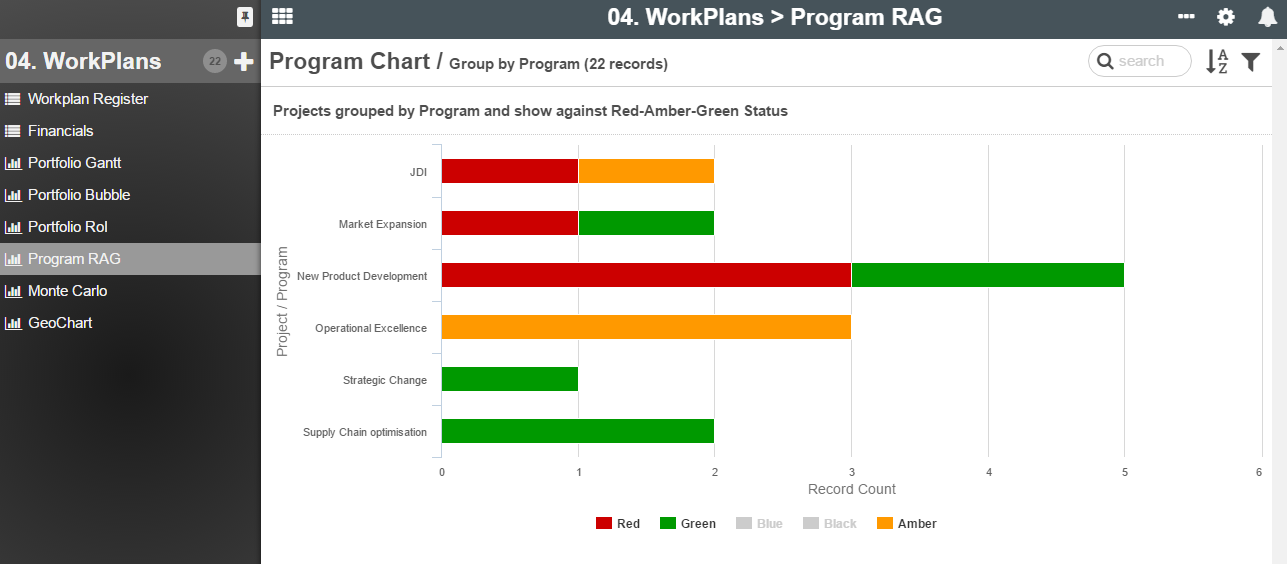 A bar chart groups together data into horizontal bars. The X-axis will give a count of the records that meet a category defined in the Y-axis.
The chart is dynamic and allows the users to select which data sets in the Category appear on the chart.
You can also enable a click through on this report which allows the user to drill down into a click through list Report to display more information about a block of records.
Configuration

Label
These are the labels that will appear in the UI for the chosen X-axis, Y-axis and Hover over Fields.
Order
This is the order that the chosen fields will be displayed.
Base Field
This is the Field from the Record that will then define the X-axis, Y-axis or Hover over Fields.
Chart Field Type
X: The X-axis is the horizontal axis that gives a Record count for the Records meeting the values for the Y-axis categories. Selecting a field for the X-axis will group the records further into blocks. Grouping the X-axis by a RAGBB Status Field as in the above example can create an effective split of the data.
Y: The Y-axis is the vertical axis that the data will be grouped by. Each unique value in the chosen field across Records will create a Y-axis point.
Hover Text: This is for additional text that displays when the user hovers their mouse over a data set on the chart.