Filters enable the efficient sorting of Records within Reports and prove themselves as extremely versatile tools when it comes to doing just this. The beauty is that there are almost infinite filtering possibilities, entirely customisable, depending on the Fields within your Apps and what information you want a Report to present you with at any given point.
More specifically, in this particular article, the configuration of a Base Filter, one that is always applied to a Report by default, will be covered. Access to AppStudio will be required to do this, hence if you don't have the permissions you may need to contact your administrator.
Once in AppStudio you will need to go into the App for which you wish to create a Base Filter. Now in the App, you need to find the Report you want to filter, this is achieved by selecting 'Reports' on the left-hand-side and opening the chosen Report from the list.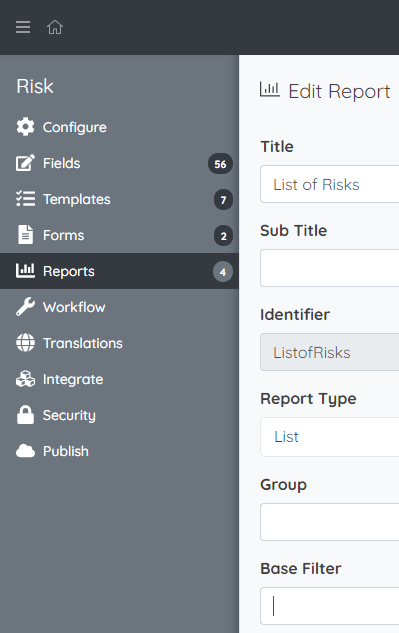 From here scroll down to find 'Base Filter' and click in the box to type a filter string.
Note: A zero-code Filter Builder is coming soon to Softools' new AppStudio, for now typed Filter Strings are used. To see how to build one of these please click here.
Make sure to click the 'Save' button when making any changes in order for them to be added to the next app version. Once you have made all the changes you need to an application you are then ready to publish it to workspace.

NOTE: Configuring Base Filters at the Report level in this way allows users to add additional Filters once in the Workspace, on top of the default Base one.