The Geo Charting capability in the Map Report allows you to visualise data on a UK, Europe or World Map. This could be to show the total revenue streams from different Countries across Campaigns in a global organisation or to classify for a UK based supplier who the Operations Manager for each County in the UK is.

Please Note: This graph is not supported for Dashboard Reports.
Creating a Geography Field
The geography Field is a selection Field in the App that corresponds to the locations found in the Maps. Each of the Maps has a corresponding global Select List that can be chosen for the Selection Field created for the Map Report.
World Map (Global): This is a map showing all the continents of the World.
Europe Map (Global): This select list will allow assigning a European Country to a Record.
UK Map (Global): A list of all of the Counties in the UK

Map Configuration
Once you have created your Geography Field you will be able to build your Map Report. In the chart configuration select Map as the Chart Type and you will be given the Map configuration options.
Target Click Through Report: This allows you to direct the User to a chosen Report filtered down to the relevant Record(s) that relate to the location that the User clicks on
Map: The Map needs to match the choice made for the Geography Field Select List.
Chart Fields: The first Chart Field you configure will be the Geography Field. Add an appropriate label, display order then select the Field and set the Chart Field Type to Geography. Examples of this can be seen in the configurations below. Next you will need to choose from one of the following two options for the type of data that you are displaying as the second Chart Field.
Option 1 - Cumulative Numeric Value
Choosing this options will allow you to show a numeric value for each location on the Map. The darker the shading the higher the value. If there are multiple Records in the App with the same location then this will aggregate the value to show the sum of the Field across all Records with that location. In our example we have chosen Revenue as our second Chart Field with the Chart Field Type Value. See the configuration below.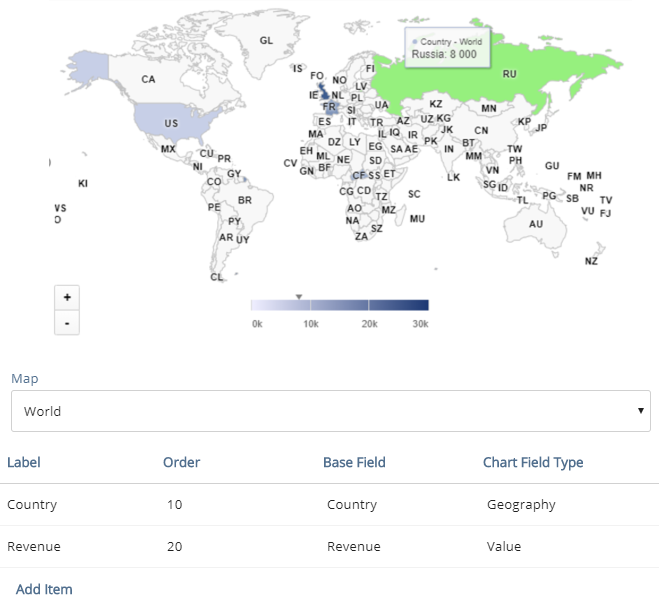 Option 2 - Display Text Value
This options will allow you to show a single text value per location. It makes the assumption that when the User is viewing the Report there is either one Record in the App per location or that there is one Record per location given the filter that has been applied when viewing the chart. In our example we have set the second Chart Field to be the Operations Manager with the Chart Field Type as Series displaying the name of the Operations Manager at each location.​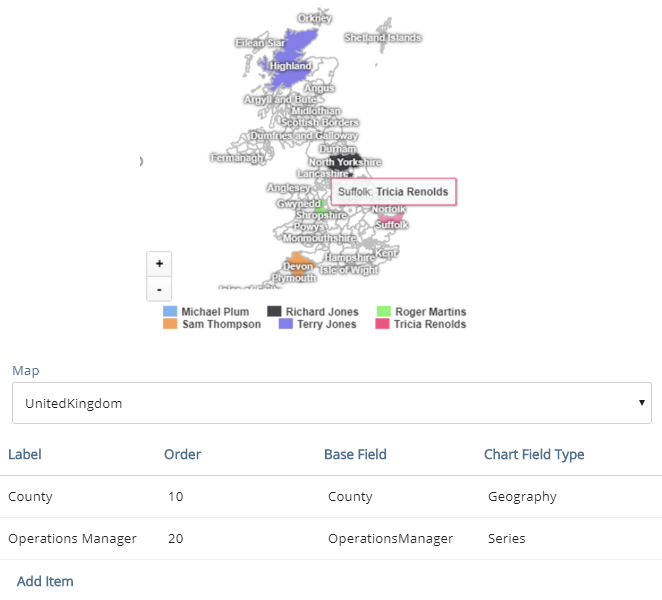 If this chart doesn't give you the output your looking for please also check out our new Google Map chart if you get a chance - Click Here