Cumulative Matrix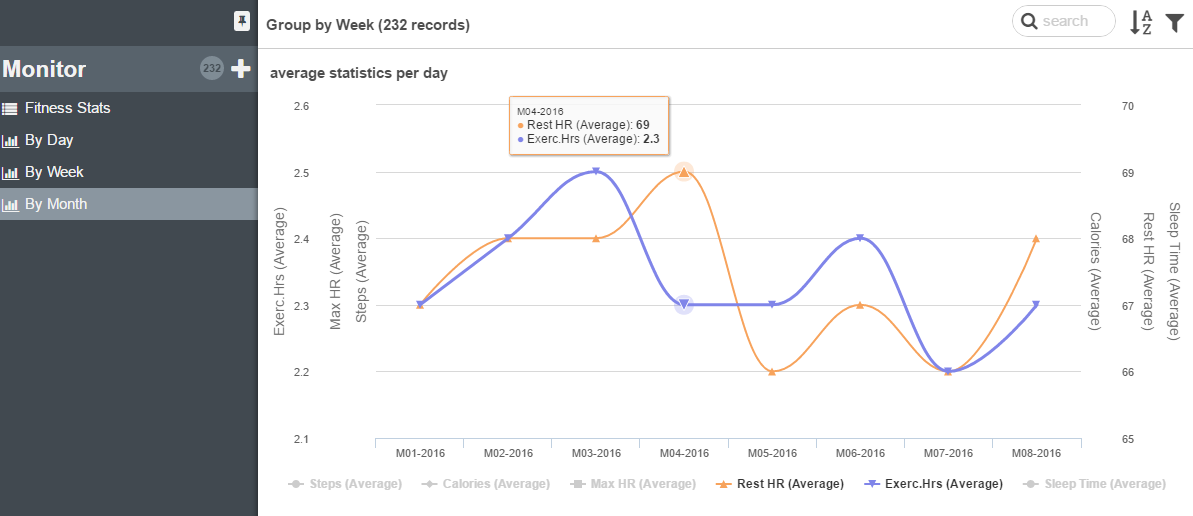 A cumulative matrix chart is used to show aggregated data displaying the Average, Minimum, Maximum or Total value for a series Field. The data is grouped by a defined field into categories along the X-axis. The series are then chosen. Each series is a set of numeric values for each category displayed as a chosen chart type. The cumulative matrix chart can display multiple series on the the same or multiple Y-axes
The chart is dynamic and allows the users to select which series of data are displayed on the chart.
Configuration

Display Table
This will display a grid view of the data below (or instead of) the chart. The series become a row of data with each column being a category value from the Field chosen as the 'Column Field'. There is also the option to add row and/or column totals for this grid.
Display Chart
This option will display the chart in the report.
Single Axis
Single axis will create one Y-axis for all of the series of data. If the data series have a similar range of values or if they are comparable, as with many financial data series then selecting this option is advisable. If the data series have varied ranges of values then do not select this option.
Order Column Categories
This option will order the Categories in the X-axis alphabetically or by date order depending on the Field type of the Field chosen as the 'Column Field'.
Column Field
This is the Field that defines the categories in the X-axis. Each unique value will create a new category for the X-axis.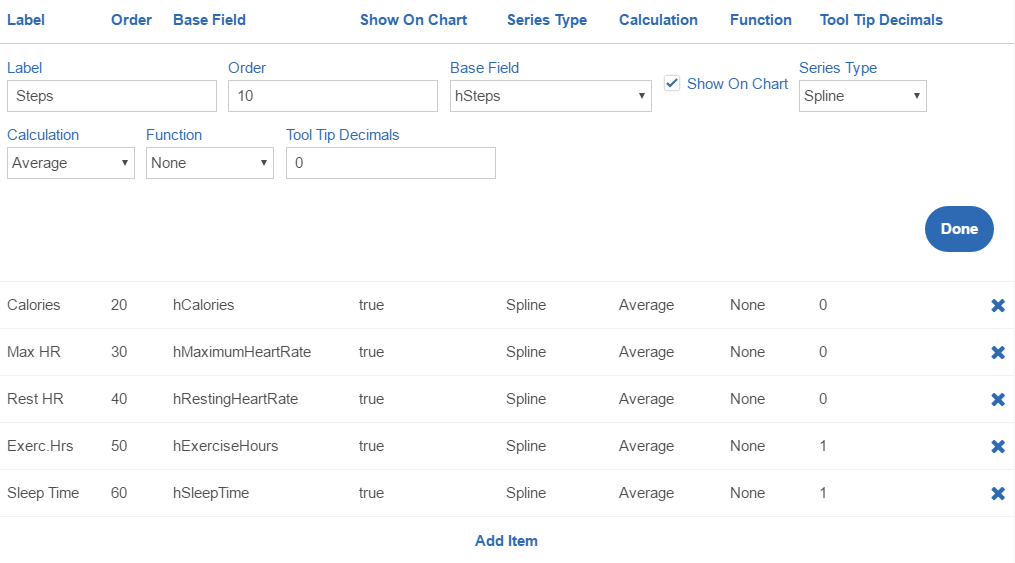 Label
These are the labels that will appear in the UI for each data series.
Order
This is the order that the chosen data series will be displayed.
Base Field
This is the Field from the Record that will then define the data series.
Show On Chart
This will add the data series to the chart. If this option is not selected then the data series will still appear as a row in the data Table if the data table has been added to the report
Series Type
This series type is the type of chart that the data series will appear is on the chart. Currenlty the options are column, line, scatter, spline or stacked column
Calculation
This calculation is the type of aggregation to apply to the data. The average, maximum, minimum or total of all values across all records matching the category value can be taken.
Function
There is the option to show cumulative results, often used when looking at financial data over time. None will show the value for just the current category value whereas Addition will take the current category value and add it it all previous category values to give a cumulative data point.
Tool Tip Decimal
This is to round the value for the category to an appropriate number of decimal places. This is often to avoid long decimals as a result of taking Average data.