From anywhere on the site click on the springboard icon in the top left of the page to bring up the list of applications.
Select or search for the App that you would like to update a Record in.
You will be taken to the app homepage that will show you the latest records you interacted with, you can click on these tiles to enter a record
If the record you want is not in the app homepage you can also go to a list report and click on a record in a list Report or edit key details straight from the report with In-Line edit (see here).
Providing expressions (if there are any) run correctly and there are no Validation errors (see here) the updates will save once you click off of the Field, or use the back arrow in the top right corner of the page.
Fields with a red outline are 'Required Fields'. A Record will not be saved if these Fields have been left blank.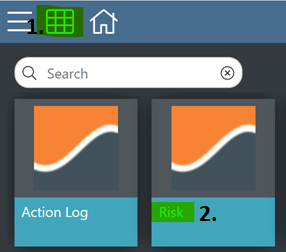 Once the Record has been opened you can edit any desired Field inside...

In-Line Edit
Simply toggle the switch to edit Fields in the List Report that are configured to allow this.