NOTE: PLEASE USE WITH CAUTION AND ONLY UNDER THE ADVICE OF SOFTOOLS
On creation of your Softools Platform we will set a Hostname for you so that you can access your site through a given URL. This is commonly in the format companyname.on.softools.net. If you need to add an additional Hostname so that the site can be accessed via a different URL then you can add this in Site Settings.
View existing Hostnames
To view the existing Hostnames on a site, first select Settings from the COGS Menu and then select the Site Settings folder in the left pane menu.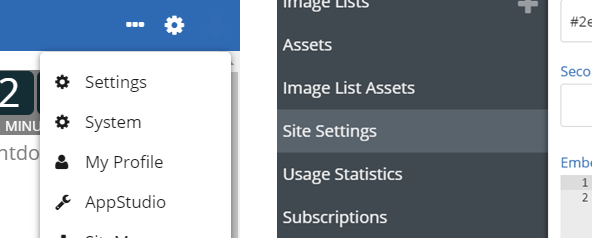 In Site Settings click on the 'Additional Hostnames' section and it will open to show you a list of all Hostnames that have been added in addition to the original tenant Hostname.

Adding a Standard Hostname
To add an additional Hostname click on add an item and enter the Identifier that you would like to use.
Note: Hostnames should be alphanumeric lowercase and can include '-' or '.' but must not contain spaces or other special characters.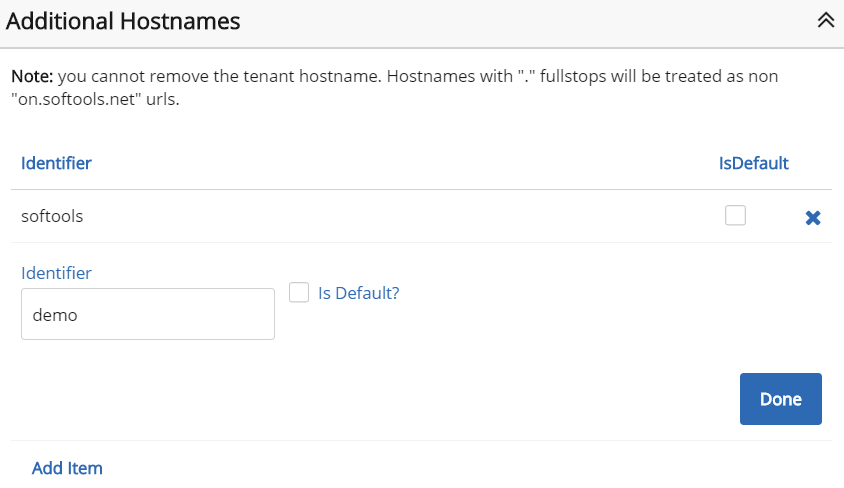 This will then create a DNS entry which will point to our server which is set up to then allow you to enter the site via identifier.on.softools.net as well as the original tenant URL.
You also have the option of setting this hostname to be the default. This means that when system emails are sent to a User, such as a User invitation email or a Workflow Notification email, the links contained in the email will reference the additional hostname set to be default instead of the Tenant Hostname.
Adding a Custom Hostnames
If you require a hostname that is not of the format ......on.softools.net then this is also possible but requires some additional configuration. You can add the hostname in the same place and then you will need to set up the DNS entry to point to our server via the original Tenant URL.
You will then need to contact us to enable an SSL Certificate and set our server to accept the URL that you would like to use. Please contact us on support@softools.net for more information on this service.