If you have undertaken an export but the notification has not appeared or is still 'Running':
Press F5 or click the page refresh button.
Click on the notifications bell in the top right corner to view your exports once more.
When marked as green it will be available to download via the downward arrow icon.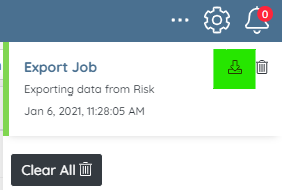 Note: Exporting won't necessarily be an available option to all users, your User Profile has to have the correct permissions. If this is the case for you then you will need to contact your system administrator.
Note: Sometimes Exports can fail, indicated by a Red strip to the left of the 'Export Job' notification. To see why, you can access your sites 'Export Summaries' by following the instructions detailed in this article.