Sometimes it can be the case that a User is initially invited to join a Softools site and the invitation email containing the link gets forgotten about in the wake of other admin or lost somehow. Although it must be noted that it is very rare for them to end up in a Spam folder, nonetheless if this invite email cannot be found then re-sending one manually can be a useful option.
Note: The User re-sending the invitation email needs to have permissions that grant access to the 'Pending Users' Settings System Application.
Firstly click on the launchpad in the top left and then the COG to access the Settings area.

In the settings area select the 'Pending Users' App to bring up the list of pending Users on the site. Find the User that you would like to send the Verification Request to and click on that User to open their User profile. From here, use the feature menu '...' and select Resend Email to bring up the confirmation pane.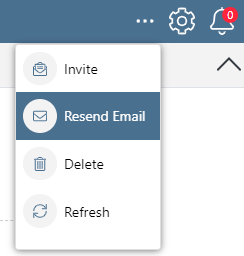 When you click on confirm, an automated email will be sent to the User asking them to Verify their account - which will once again have an expiry of 3-months.
For information on how the User can then verify their account, refer them to this article on Verifying your Softools Account
Note: Once a new Verification Request has been sent to a User it will invalidate any previously sent Verification Requests, only the most recent is valid.
Key Facts on Invite Emails:
If not used reminders are sent every Monday for 4wks after the 1st
During this resend period only the most recent email link is valid
If still unused by the 4th resend, the link in this final email stays valid for 100days
After this point a manual resending of the invite email would be required